The art of drawing good from bad
Hamish MacDonald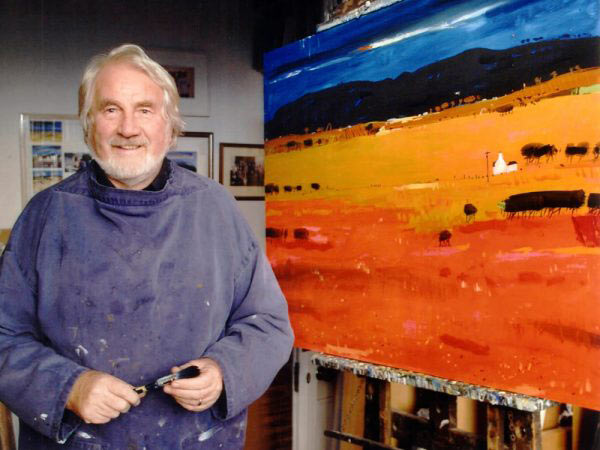 Herald April 30th 2008
The art of drawing good from bad
REBECCA McQUILLAN
On a sun-dappled April morning, the light floods in though the windows of Hamish MacDonald's sandstone home near Glasgow, illuminating the wall of art in the lounge. Fishing boats, landscapes and still lifes fill the space, each painted by the man himself on his extensive travels around Scotland, England and further afield. Inspired by the Scottish Colourists, Joan Eardley and Sir William George Gillies, this vibrant, celebratory style has made Hamish MacDonald into one of Scotland's most successful contemporary artists, with collectors of his work including the Duke of Edinburgh.
But while these may be what MacDonald is best known for, at the age of 73, his 40-year artistic journey has just taken a turn down an interesting new path. No-one has been more surprised, or enthused, by this than MacDonald himself – particularly as the catalyst was incurable pancreatic cancer.
Since being diagnosed last October after suffering stomach pains and jaundice, MacDonald has been attending the Beatson Oncology Centre in Glasgow for regular palliative chemotherapy. Hooked up to a drip for 90 minutes every week, he has taken out his sketchpad and drawn those he sees around him – other patients, visitors, nurses, doctors. He has even produced portraits of a vital-signs monitor and "cold cap" designed to help prevent hair loss.
A chance conversation with Professor Sir Kenneth Calman, the Chancellor of Glasgow University, led to an invitation to display the work. MacDonald has now made a permanent loan of 36 drawings to the university, where they can be seen in the atrium of the Wolfson Medical School Building. They provide a unique, touching and at times amusing insight into life in a chemotherapy room.
Now Hamish and his wife Nadia are hoping the exhibition will benefit The Herald Friends of Maggie's campaig. The therapeutic and inspirational value of art and sculpture has long been recognised by Maggie's Centres.
Certainly, MacDonald feels his art has helped his treatment. He steps around the door of his lounge today wearing his blue painter's smock, having come straight from working on a still life of yellow flowers. "I hope Maggie's will gain from this," he says. "I've got a very good quality of life, I'm working hard and I'm very pleased with what I'm producing.
"All fear is gone – it's not a cas of I'm here today, gone tomorrow, it's a case of I'm here today, gone today, so I can't put off making decisions. So there's an urgency, a drive and a freedom to the work which I find is good."
It all began with a gift. Not long after his diagnosis, Raymond, the eldest of his four children, and a professor of music psychology and improvisation at Glasgow Caledonian University, gave him a small sketchpad and a box of crayons, with the words: "Keep working, Dad." MacDonald did not feel like drawing, but the impulse later took him at chemotherapy sessions, when he would be seated in a room with up to eight other patients. "I was a bit nervous about producing at first, but I asked my fellow patients if they minded," he says. "Some people sleep or read; my way is to work. It was just a matter of helping me to get through the time but it became much more important when I realised that the drawings, in my humble opinion, have a quality."
In fact, the works were a revelation to the artist himself. "I'm not a figurative artist so this was a new avenue for me to go down. The pastels were a medium I wasn't used to, so there was a bit of magic to it – the materials, the place and everything came together. Sometimes out of adversity, comes something good."
Though sited in the asymmetrical glass-roofed medical school building where they are seen every day by trainee doctors, MacDonald's drawings have a charm and humanity that give them a far broader appeal and make for a rewarding visit.
"Anyone looking for realistic drawings is going to be disappointed," he says. Certainly, they are impressionistic – the lines are fluid, the facial features are absent and context is hinted at rather than drawn in – but they are also arrestingly real. "When an artist approaches his sketchbook, he's expressing something that he feels about that particular situation," says MacDonald. "I feel as though I've captured the character of some of the people involved.
Cancer affects people from all walks of life. The whole thing's a very interesting exploration."
In Sleeping Woman, for instance, the slight tilt of the head in repose gives her away, as if she were trying to stay alert but just nodded off. In Tea Time, there is a tension about the woman gazing down at the white china cup and saucer on her knees, lost in her own thoughts.
The Beatson Drawings are growing in number all the time as MacDonald continues to sketch. He and Nadia spread a selection of the newer ones out on the coffee table. One is of a patient called John reading a newspaper. "He was a character," says MacDonald. "Before they give you the chemotherapy, they have to confirm that you are who you say you are, so you have to give your name, age and date of birth. He went on to say his budgie's name was Joey and his dog ate the budgie – a typical Glasgow guy."
All this helps to offer a different perspective on chemotherapy – something that is, of course, often debilitating. MacDonald himself has had a positive experience. His most troubled period came before the treatment, when he suffered badly with itchiness caused by jaundice. "It became especially intolerable at night," he says. "It happens because the nasties can't get away, so they had to fit a stent in the stomach so that the impurities could get out." Since then, he has felt much better and has been able to live a near-normal life. "The chemo's been great and I've reacted very well to it. It's quite a difficult thing to come to terms with, but I have done that. I have my black moments but most days I'm good."
An obvious source of pride to him are his four children, who share a flair for music: as we look at his latest drawings, he plays songs recorded by Raymond and his daughters. Raymond also does music therapy with people who have special needs. "It's amazing how my son's path and mine have crossed," he says.
"Art, literature, music – it's all great therapy," adds Nadia. "What better way to help people?"
Nadia is a keen supporter of Maggie's and was one of the first readers to sign up as a Herald Friend of Maggie's. "It's just £5 a month and I felt that, in a small way, I was helping," she says. "I've been very impressed with the campaign. Maggie's do so much good. The centres are places people can go, men and women, no matter what type of cancer they have. They can discuss how they're feeling – or equally, if they don't want to talk, they can just go for a bowl of soup or to do some t'ai chi. Hopefully Hamish's involvement will encourage more people to join up and become friends of Maggie's."
The head of Maggie's Centre in Glasgow, Maureen Fee, is delighted the MacDonalds are lending their support. "Hamish is an inspiring Scottish artist and it is great to hear his passion for art is helping him through his treatment. At Maggie's we understand the power of art, complementary therapies – and even a cup of tea and friendly face."
The interview at an end, MacDonald stops for a moment in the doorway. "If you take one thing away, I hope it's this: it's not all doom and gloom, this cancer. It's opened new doors."
[email protected] Hamish MacDonald's Beatson Drawings are on public display at the Wolfson Medical School Building, Glasgow.