Obituaries
Hamish MacDonald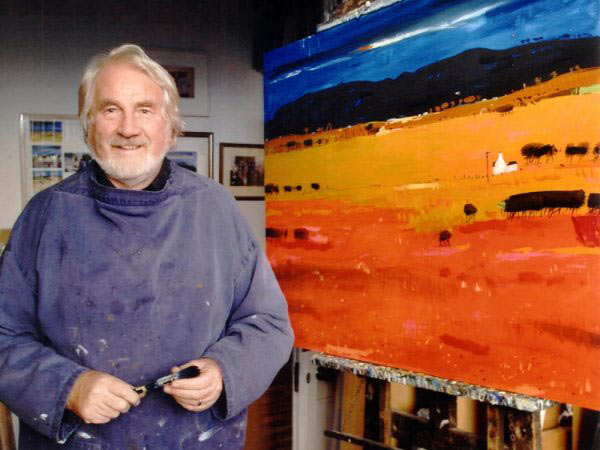 September 22 2008
The Herald
Hamish MacDonald
Born January 29 1935; Died September 13 2008.
HAMISH MacDonald, who has died aged 73, was one of Scotland's most successful contemporary artists, known and loved for his vivid, fluid landscapes of Scotland, a style inspired by the Scottish Colourists.
MacDonald embarked on a new phase in his artistic career after being diagnosed with incurable pancreatic cancer last October, when he began doing figurative sketches of patients having chemotherapy at the Beatson Oncology Centre in Glasgow. MacDonald sketched his fellow patients in crayon while having palliative treatment there himself. A chance conversation with the chancellor of Glasgow University, Professor Sir Kenneth Calman, led to an invitation to exhibit the works in the atrium of the Wolfson Medical Centre Building, where they can still be seen.
This and two other exhibitions during his last year crowned a 40-year career in which MacDonald overcame setbacks to become a much sought-after painter whose works sold out almost as soon as they left the easel. His work on the Beatson collection exemplified a recurring motif in MacDonald's life: finding hope and inspiration at times of adversity.
A gentle, determined character and a warm-hearted family man whose children and grandchildren were a great source of pride to him, MacDonald had not only a passion for art, but a lifelong love of jazz music and sport, particularly football which he initially pursued as a career.
Hamish MacDonald (baptised James) was born in St Vincent Street, Glasgow, the son of crofters from Morar. As a young boy, he overcame the serious bone disease osteomyelitis, an illness which often proved fatal. He started painting aged seven and his earliest memory was of a picture of his being displayed at school.
Until the age of eight, he lived in the Highlands before the family moved permanently to the south side of Glasgow, where his parents ran a grocery shop. MacDonald attended Holyrood secondary school, where he discovered a love of football. He played in goal for Pollok Juniors and for Scotland's youth internationals, but after giving up his hopes of a professional career, devoted his full attention to art.
MacDonald enrolled at Glasgow School of Art, but was thrown out after a three-month probationary period. It was a pivotal moment: refusing to give in to this setback, he worked hard to be readmitted. It was during this period that his work was included in a Royal Scottish Academy show in Edinburgh, the first of many occasions. He went back to Glasgow School of Art in 1963, graduating in 1967. He held his first exhibition at the Cosmo (now the Glasgow Film Theatre) while still at college and a second at the Citizens' Theatre in 1967.
MacDonald met Nadia Rossi at an art school dance and they were married in 1966 at St Columbus Church. To support his family, MacDonald taught art for 25 years, becoming head of art at St Patrick's High School, Coatbridge. He would teach during the day and paint at night in his two home studios. The MacDonald household is remembered by his children as being "all about music, art and sport". A Sinatra man, MacDonald liked nothing more than to take the microphone at a wedding.
He continued to play football into his 40s and was also a keen bowler, tennis player and golfer.
At art school, he produced Pop Art-style collages of which he remained very proud. However, it was landscapes, mainly of Scotland but also of the places he visited on his extensive travels, including Italy and Marrakech, for which he became best known. He was inspired by Peploe, Cadell and particularly Joan Eardley. He held numerous exhibitions, including a number at the Lemon Street Gallery in Cornwall run by his daughter, Louise Jones. His works can be found in many major collections, including The Duke of Edinburgh, Kelvingrove Art Gallery and Paisley Art Gallery. His awards include National Prizewinner Laing Competition (1989) and RGI Royal College of Physicians Award (1993). His last painting, The Procession of the Mysteries of the Dead, Procida, was completed last Tuesday.
MacDonald, who died last Saturday, is survived by his wife Nadia, his four children, Raymond, Louise, Martin and Nicky, and his grandchildren Marcello, Maria and Eva.
---
22 September 2008
The Scotsman
Hamish MacDonald
Landscape artist
Born: 29 January, 1935, in Glasgow.
Died: 13 September, 2008, in Glasgow, aged 73.
HAMISH MacDonald pain-ted the coasts of the west of Scotland with a vivid clarity and also produced delightful canal scenes in  Venice and seascapes in Cornwall. Much of his work was inspired by the Scottish Colourist movement, but MacDonald preserved an individuality which made him such an interesting artist. He painted landscapes and abstracts with equal style, and throughout most of his career he succeeded in capturing dramatic scenes with a keen sense of reality: Red Farm Field positively bursts on to the canvas with brilliant red while Evening Fields at Aberfeldy has a more forbidding style, as if a storm is about to engulf the hills. One of his favourite areas was the Isle of Skye and Poppy Field captures a typical Skye view with a striking green field punctuated by vibrant red poppies blowing in the wind.
This ability to encompass several styles was manifested right to the end of MacDonald's career. A year ago, he was diagnosed suffering from pancreatic cancer and as if to demonstrate his determination, MacDonald sketched his fellow patients at the Beatson Oncology Centre in Glasgow. The Chancellor of Glasgow University, Professor Sir Kenneth Calman, saw the crayon drawings and organised an exhibition at the Wolfson Medical Centre, where they remain as a fitting tribute.
Hamish MacDonald was born into a crofting family originally from Morar, and despite a serious bone illness as a child he displayed at school, Holyrood Secondary in Glasgow, a talent as an artist and for football. His parents ran a grocery business, but holidays were spent in the Highlands – a region that was to remain dear to MacDonald – both as an artist and as a visitor – all his life.
In 1955, he went to study at Glasgow School of Art, but did not last the short trial period he was put on. With typical tenacity, he exhibited his paintings where he could and had one accepted by the Royal Scottish Academy. The Glasgow School reconsidered their decision and in 1963 they readmitted MacDonald and he graduated in 1967.
MacDonald taught art at Jordanhill College, Motherwell Technical College and then at Bell College of Technology before in 1974 becoming head of art at St Patrick's High School, Coatbridge. There he encouraged those with, and those without, an interest in art in equal measure. He was always keen to let pupils express themselves and through that develop an interest in art. MacDonald also encouraged children with learning difficulties and gave special classes.
In 1991, he retired from teaching and this allowed him to concentrate on his painting. The Scottish Colourists – especially Joan Eardley – had influenced his vivid approach all his life and from the late 1990s MacDonald was acknowledged as one of the most important painters in Scotland. He had several solo exhibitions throughout Scotland and been bought by important private individuals and public institutions.
MacDonald's first exhibition was at the Citizens Theatre in 1964 and thereafter his work has been seen at the Torrance Gallery (1985), the Kingfisher Gallery (1987) – both in Edinburgh – the Atholl Gallery, Dunkeld (1987) and the Riverside Gallery in Stonehaven (1988). He has regularly shown at the Lemon Street Gallery in Cornwall which is run by his daughter, Louise Jones.
MacDonald's paintings have been bought by the Queen and Prince Phillip, the Royal Bank of Scotland, Jack McConnell, and can be seen at both the Kelvingrove and Paisley art galleries.   There was a steely determination in this genial and kindly man that helped him combat adversity. His paintings show a joy of colour and life that is totally celebratory: Stac Polaidh captures the glory of the peak in a commanding style while Autumn Hillside in Forfar is a more pastoral and delicate work.
The treatment for cancer and the drawings of patients, nurses and doctors at Beatson Oncology Centre marked another tragic but decisive period in his career. The 36 pictures that are now on show there are a touching insight into the every day workings of a chemotherapy unit and reflect Macdonald's belief that art can comfort the seriously ill.  In an interview, MacDonald described the drawings as therapeutic. "I can't put off making decisions" he said. "So there's an urgency, a drive and a freedom to the work which I find good."
His daughter remembered her father as "inspirational". She learnt much of her love of painting from her father, "he would talk you through pictures and suggest what you should look at. When I started my gallery Dad was hugely supportive: he had very good artistic judgement. But he was always high spirited, lots of fun and a lover of music; a keen tennis player, golfer, loved bowls and would sing any song by Sinatra anywhere."
In 1966, MacDonald married Nadia Rossi. She survives him along with their four children.
ALASDAIR STEVEN